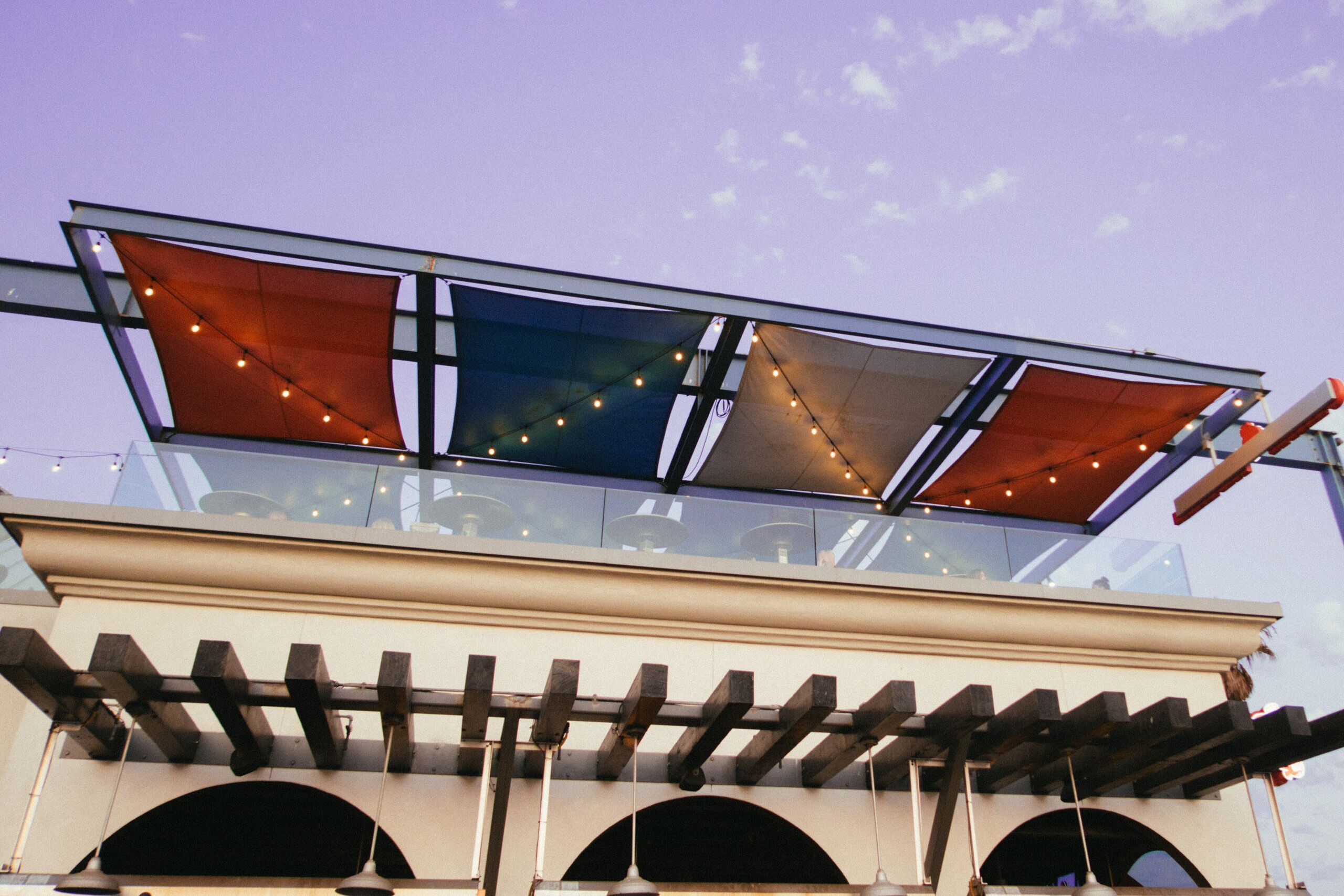 Everything You Need To Know About Awnings
Awnings are roof-like covers that extend over spaces to provide shelter and shade from snow, wind, or rain. Awnings are often found over windows and doors of residential homes and commercial buildings. Jim Kopf, the vice president of Tent Awning Co., in Nashville states that the best awning is the type that offers shade when needed and protection from elements such as the wind or rain.
With this in mind, these protective roof-like covers come in various sizes, materials, and shapes to match several styles and uses. Regardless of the material type used, the two main categories include retractable or fixed.
Retractable Awning
Many homeowners choose retractable awnings due to their versatility. Over the years technology has significantly advanced, making these versions of awnings more customisable and affordable.
Fixed Awning
Many commercial buildings use fixed awnings at entrances or other dedicated outdoor spaces. These are typically made of metal or aluminium, which makes these products more durable when compared to fabric. These awnings might be more expensive, but they are designed to handle the weight of snow, water, or falling tree limbs. Metal or aluminium awnings last for many years with no or very little maintenance.
Retractable awnings are space savers since they attach overhead and are easy to stow away in bad weather conditions such as heavy snow or winds. Retractable awnings are available in various price ranges, dependent on whether the model is manual, remote-controlled, or motorised.
Awning Types
While awnings are mainly designed to provide shelter and shade, there are several variations. The awning type for your needs depends on where and how you plan to use it. If you are designing a backyard entertainment area and you would like to add privacy and shade, your requirements will be different from a person that needs a dry and protected area for delivered packages.
Below are four awning types for you to choose from:
Freestanding Awning
Freestanding awnings are not mounted or attached to walls. This option provides more versatility for spaces such as playgrounds, pools, or rooftop bars.
Awnings are secured by support beams, and they also come in customisable designs to match a specific space. These awnings are usually made from a material such as canvas to offer shelter from heat and water. Canvas awnings should be stored away during the winter months in Northern climates. If you are looking for a Structure veranda aluminium instead of an awning then see here.
Patio Awning
Patio awnings such as sails or shade cloths are an easy-to-install and most affordable option, which makes them a popular choice for homeowners. These thin, flat awnings are usually made from waterproof fabrics. They are attached to a wall and extend outward to offer shelter and shade. The ideal types dress up a deck or patio.
Patio awnings are usually made of polyester, canvas, or cotton. Some patio awnings are designed to allow moisture to flow through and are only designed to offer shade. These are ideal above pools or in an area to block out the sun for a few hours a day.
Door And Window Awnings
Door and window awnings are commonly used in commercial buildings. These products extend the roof line of the structure over either the threshold of doors or windows. These designs offer a great way to stay dry when unlocking doors or greeting guests. These awnings are typically curved and smaller, which helps to redirect water away from a window or door while providing a decorative appeal.
Metal Awning is designed for long-term protection. The most common material is aluminium since it is affordable. However, there are other options made to last for many years with virtually no maintenance. Metal awnings can also be painted so that they match the exterior of your home.
Some metal awnings are removable, while some are not. Metal awnings are usually welded to the wall of a business or home, which means they are much trickier to install when compared to patio awnings.